Terms and Conditions
In order to keep our quality standard high, in principle* we always deliver with our own transport to the final location in your garden, provided that there is sufficient space and the paths are paved.
We think this is important for the following reasons:
We can schedule the delivery in consultation at times that you can free up time;
Punctual fulfillment of agreements made, 'everything in our own hands';
Delivery by someone who has knowledge and experience with Hot tubs and who can assist you if necessary;
Remaining payment on delivery in accordance with the method laid down in the order confirmation**
We can also keep our quality levels high internationally by means of combi-rides. We are not always the cheapest, but you can be sure that you will receive the promised goods in accordance with the agreements made.
*If a passage is narrower than 110 cm wide or if there are other obstacles (fence, wall, stairs, etc.) that obstruct the passage, please contact us in advance.
** No delivery will be made without payment of the remaining amount upon delivery. If the agreed payment method is deviated at the last minute, we unconditionally reserve the right to postpone delivery until further notice so that we are able to trace the correct receipt.
We think it is important that you can really enjoy yourself after purchasing a Hot Tub without any problems. Isbjørn therefore provides a standard 2-year manufacturer's warranty on all hot tubs, whereby the instructions must of course be observed. Every week there may be problems or backorders - if any - are dealt with and settled.
If you have a complaint about a hot tub purchased and delivered before 04-02-2019, you can email your complaint to serviceisbjorn@hotmail.com, Eurotubs Beheer will handle your complaint. The concept "Isbjørn" was taken over as of 04-02-2019 (no company takeover). So if you have a service request / complaint about a hot tub delivered after 04-02-2019, please fill in the form below. Once we have received your complaint, we will send you a confirmation within 24 hours.
Report your complaint here
What customers say
Our new hot tub has been in place for a few months now and we are very satisfied. This started with delivery and installation. With us he had to go over the roof. This was not a problem, because the hot tub was delivered neatly packaged on a pallet. Once on the ground it was just a matter of removing the foil and tilting it and it was standing. Installing the heater and filter was also a matter of attaching hoses, turning and firing. We have already spent wonderful hours in it. Both in the hot summer and now in the cold under the starry sky.
I would like to thank you very much for thinking along and delivering the hot tub. The finish and appearance in our garden is more than expected! For now, the neighbors can watch (later we'll blind this corner), but everyone is jealous! Since the delivery last Saturday there hasn't been a day that we haven't enjoyed the tub. Especially with this warm weather, daily heating is not necessary, which results in a refreshing bath every day. We are therefore very pleased that we were able to submit all our questions and wishes to Isbjørn and Woodmex before purchasing this eye-catcher.
Very satisfied with our Isbjorn hot tub. The large heater heats the tub quickly. In the beginning, be careful not to heat too hard so that it gets too hot. All in all, it is wonderful to enjoy and also super cozy with the whole family. Well advised and nice to see the manufacture.
Finally started installing the hot tub today. We couldn't wait to sit in it for a while. And thanks for the warm hats.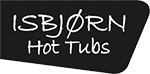 Since February 2019, ISBJØRN HOT TUBS has been part of the Woodmex Group, which has been located in Wormerveer (NH) for many years. Thanks to the greatly improved quality, improved final checks and our own delivery service, you can now find our hot tubs in several European countries.