Frequently Asked Questions
Frequently Asked Questions
What is a "bubble system"?
Bubble systems only blow air in a vertical direction from the benches upwards via 12 air jets. The pump of the bubble system is mounted in a technology box that is placed next to the hot tub.
A hot tubs with whirlpool options, is that okay?
Isbjørn Hot Tubs is one of the few to invest in wood-fired hot tubs with whirlpool options such as bubbles or lighting. This allows you to enjoy your hot tub as a wood-fired hot tub (contrast inside and outside temperature, cf. with sauna), but you can also enjoy moving water in warmer weather. We can guarantee that all our systems (CE) are fully tested and free of leakage.
You can decide no use chlorine, as chlorine can damage the stove. The use of chlorine will invalidate the warranty on the heater.
Do I also have to maintain the wood?
In principle, thermowood is maintenance-free but will gray rather quickly (just like Red Cedar). As soon as the wood gets wet, the beautiful dark color will return. If you always want to keep the dark color (eg the wooden edge), we recommend that you treat the wood once a year with special wax oil.
Thermowood has the same properties as Red Cedar due to a thermal treatment. However, it is not a type of wood in itself, but can be made from various types of wood. We only use the best dark A class thermowood for our hot tubs. Thermowood is maintenance-free and has the advantage as a decorative wood that it will (almost) no longer work.
How fast can I heat up the Isbjørn Hot Tub?
The heating time of a hot tub is determined by the number of liters of water that must be heated and the capacity of the heater. Our tubs are shaped in such a way that the number of liters remains limited, and our stoves have a minimum capacity of 30-45 KW! This allows all our baths to be heated up to a pleasant body temperature within 1.5-2.5 hours (at an average outside temperature of 15 degrees).
Can I leave the water in it in the winter?
Although the LDPE inner tubs withstand freezing, it is not recommended to leave the hot tub full during (persistent) periods of frost. Frozen expanded ice can damage the stove and the guard rack or the ducts to the external stove. The external heater should also no longer contain any water. If you want to use the hot tub in the winter, the following is possible:
Using a circulating water pump with spiral heating, you can leave the water standing;
Fill the bath during use, and then empty it again;
Use of a circulation pump with the internal heater in light frost.
How does an external heater work?
An external heater is attached to the outside of the hot tub with 2 rubber grommets with hose clamps. As soon as you fill the bath, the stove is also filled. The stove has a double wall, so that there is water all around the seat of the fire. For example, heat is transferred to the water via a large surface in the stove. The hot water will rise and find its way back to the hot tub via the highest drain point in the stove. As a result, cold water is drawn from the hot tub back to the stove through the bottom opening. This is why we speak of a natural circulation.
What is better an aluminum or stainless steel stove?
In principle, stainless steel is made of a higher quality material than aluminum. However, aluminum has a much lower melting point than stainless steel and therefore has a faster heat transfer that is desirable for a hot tub. That is why our hot tubs come standard with an aluminum heater (with double top edge to prevent overheating) that heats up the baths within 2 hours on average.
How do I keep the water clean, do I need a filter?
Do you use a hot tub fairly infrequently (e.g. every few weeks)? Then you can easily fill a hot tub and empty it again after 4-5 days. If you do not use the hot tub for a while, you can leave the hot tub empty, which is fine with a plastic tub. The water (without filter) should be changed after a maximum of one week. However, the addition of purification granulate (chlorine-free) against the algae is recommended.
If you regularly use a hot tub every week, we advise you to connect a good sand filter with UV to your Hot Tub. The filter removes the substances and fats from the water. The UV lamp has a preventive effect against algae and bacteria, so that the water does not become slimy and green.
How many people fit in a Hot Tub?
Assuming average stature you can assume the following: Internal stove: 180 cm cockpit for 4-6 people.
External stove : 160 cm cockpit for 2-4 persons, 180 cm cockpit for 4-6 persons.
Which is better, an internal or external heater?
Both variants have advantages and disadvantages. An internal stove often has more appearance and more atmosphere, because you are close to the fire. An external stove, on the other hand, has more practical advantages in cleaning the tub and removing ash residue. There is no difference in heating time with our models.
What makes Isbjørn different from other models?
We have without a doubt the best LDPE inner tubs that are ergonomically formed from 1 piece. This material is unbreakable and will last a lifetime. Furthermore, we can always deliver custom work for standard prices through small-scale production. Thirdly, we are technically at the forefront with solutions in the field of filtration and whirlpool options. Finally, all our hot tubs are delivered by our own people (quality from design to delivery in your garden).
Is your question not listed?
What customers say
Our new hot tub has been around for a few months and we are very satisfied. This already started with the delivery and installation. He had to go over the roof with us. This was no problem, because the hot tub was delivered neatly packed on a pallet. Once on the ground it was a matter of removing the foil and tilting it and he was standing. Installation of the stove and filter were also a matter of hoses and twisting and firing. We have already spent wonderful hours in it. Both in the hot summer and now in the cold under the starry sky.
I would like to thank you very much for thinking along and delivering the hot tub. The finish and appearance in our garden is more than expected! For now, the neighbors can watch (later we'll blind this corner), but everyone is jealous! Since the delivery last Saturday there hasn't been a day that we haven't enjoyed the tub. Especially with this warm weather, daily heating is not necessary, which results in a refreshing bath every day. We are therefore very pleased that we were able to submit all our questions and wishes to Isbjørn and Woodmex before purchasing this eye-catcher.
Very satisfied with our Isbjorn hot tub. The large heater heats the tub quickly. In the beginning, be careful not to heat too hard so that it gets too hot. All in all, it is wonderful to enjoy and also super cozy with the whole family. Well advised and nice to see the manufacture.
Finally started installing the hot tub today. We couldn't wait to sit in it for a while. And thanks for the warm hats.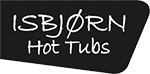 Since February 2019, ISBJØRN HOT TUBS has been part of the Woodmex Group, which has been located in Wormerveer (NH) for many years. Thanks to the greatly improved quality, improved final checks and our own delivery service, you can now find our hot tubs in several European countries.