Origin wood-fired hot tub
The wood-fired hot tub has its origin in Arctic regions. Initially, these were mainly solid wood baths made of solid wood. The disadvantage of this generation of wood-fired outdoor pools was that they only had a limited lifespan (leaks after some time) and often had straight walls. As a result of these straight walls and open benches you had to heat up much more water, which resulted in a longer heating time.
Wood-fired hot tub with short heating times
However, Isbjørn Hot Tubs has opted for an LDPE plastic inner tub for all its wood-fired Hot tubs, which are ergonomically shaped. These tubs have a sloping wall, closed benches and above all last a lifetime! The advantages of this approach are that you have a lifetime tub, where you need to heat up much less water to enjoy it. The heating times vary on average from about 1.5-2.5 hours. (Depending on the outside temperature, the heating may take a little longer in the winter months than in the summer months).
Thanks to these 1 mold plastic inner tubs, the wood-fired hot tub lasts much longer, and you can even 'restyle' it later. This new generation of wood-fired hot tubs therefore retains its value much more than its traditional wooden hot tub. After all, the inner tub lasts a lifetime, while the wood has only been given a decorative function.
Indoor heater or outdoor heater? 
We supply our wood-fired hot tub with an indoor or outdoor stove. A common question is "Which is better?". This depends entirely on what you consider important. In general, however, it can be said that the wood-fired hot tub with an indoor stove often evokes more atmosphere, is a bit more cozy during bathing because of the crackling wood and the more direct contact with the fire (you are literally sitting next to the fire). The advantage of the outdoor heater is that the hot tub can be cleaned faster (no wooden rack, no heater in the bath where substances can stick). What sometimes also plays a role is that the outdoor heater offers a little more safety for parents with young children.
Enjoy in a wood-fired hot tub
Thanks to the internally built-in TURBO heater, you can enjoy a crackling and crackling wood fire in the bath. Enjoying a wood-fired hot outdoor pool is enjoying the peace and nature outside, the twinkling starry sky, the crackling wood fire, the feeling of being safely surrounded by the hot water, in an increasingly colder outdoor environment.
A wood-fired hot tub for how many people?
Our Isbjørn wood-fired hot tubs are basically available in 3 different variations:
- With indoor stove in a 180 variant with internal stove (freestanding or built-in). Suitable for 4-6 people.
- With outdoor heater in a 160 variant, with external heater. Suitable for 2-4 people.
- A 180 variant with an outdoor heater. Suitable for 4-6 people.
Where and how do I place a wood-fired hot tub?
Fortunately, the plastic wood-fired hot tubs don't weigh as much as a traditional wooden hot tub. In that respect, the placement of a tub has become a lot easier these days. A plastic hot tub has foam insulation rings at the bottom. This is where the hot tub is. This means that you can place the tub on simple tiles, wooden decking or simple gravel. Not recommended on grass or sand. The delivery itself takes place with a pallet truck, if you have a passage to the garden of at least 115 cm wide (for a hot tub with an outdoor heater), our driver will drive to the final location in 1 go. For a hot tub with an internal heater, there must be a passage of at least 160cm wide. We would like to hear about your situation so that we know how to pack the tub. If you do not have such a passage, please discuss this with us beforehand. In consultation, the tub can often be lifted over a fence or fence, or we can come up with other solutions.
What does a wood-fired hot tub cost?
​Isbjørn Hot Tubs focuses on quality in the first place, which means that you cannot always compare our baths with another wood-fired bath. Based on 10 years of experience with other brands and our own production experience, we know better than anyone what is important to you in the long term. The prices of a wood-fired Hot Tub are therefore based on only the very best LDPE plastic inner tubs (thick tubs of 8 mm), powerful 30, 40 or 45 kW wood stoves, a beautiful atmospheric 16 cm wide thermowood wooden edge at the top, and a rot-proof thermowood wood finish (class A). Would you like an overview of our prices, or would you like to download a price list.
Where can I view a hot tub?
Showroom Wormerveer (Head office and production)
Rosbayerweg 105
1521 RW WORMER SPRING
North Holland / Netherlands
Phone : 06 33051666
closed on Mondays
Tuesday to Friday from 10 a.m. to 5 p.m., visit by appointment
Saturday from 10 a.m. to 3 p.m., visit by appointment
Approx. closed once a month on Saturday, keep an eye on the website and/or our Facebook page. During the Covid-19 period we adhere to the rules of the RIVM.
Showroom Breda
water wellness
Beguinage 5
4891 TR Rijsbergen
North Brabant
Phone: 06 18971184
Visit by appointment
Please call prior to your visit
check with our point of sale to see if anyone is present.
What customers say
Our new hot tub has been around for a few months and we are very satisfied. This already started with the delivery and installation. He had to go over the roof with us. This was no problem, because the hot tub was delivered neatly packed on a pallet. Once on the ground it was a matter of removing the foil and tilting it and he was standing. Installation of the stove and filter were also a matter of hoses and twisting and firing. We have already spent wonderful hours in it. Both in the hot summer and now in the cold under the starry sky.
I would like to thank you very much for thinking along and delivering the hot tub. The finish and appearance in our garden is more than expected! For now, the neighbors can watch (later we'll blind this corner), but everyone is jealous! Since the delivery last Saturday there hasn't been a day that we haven't enjoyed the tub. Especially with this warm weather, daily heating is not necessary, which results in a refreshing bath every day. We are therefore very pleased that we were able to submit all our questions and wishes to Isbjørn and Woodmex before purchasing this eye-catcher.
Very satisfied with our Isbjorn hot tub. The large heater heats the tub quickly. In the beginning, be careful not to heat too hard so that it gets too hot. All in all, it is wonderful to enjoy and also super cozy with the whole family. Well advised and nice to see the manufacture.
Finally started installing the hot tub today. We couldn't wait to sit in it for a while. And thanks for the warm hats.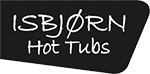 Since February 2019, ISBJØRN HOT TUBS has been part of the Woodmex Group, which has been located in Wormerveer (NH) for many years. Thanks to the greatly improved quality, improved final checks and our own delivery service, you can now find our hot tubs in several European countries.