Built-in hot tub - model Terrasse
Built-in hot tub offers more privacy...
Wood-fired baths that are partly or completely buried in the ground, a terrace or veranda (the 'built-in hot tub') are becoming increasingly popular. In general, these burrow hot tubs offer a little more privacy and are less prominent in your garden. The majority of built-in hot tubs are hot tubs with an internal heater because of the natural circulation.
Isbjørn responds to this demand by means of small-scale tailor-made production of built-in hot tubs. You can make all your individual wishes known and we will make it into something beautiful!
Completely insulated by us
Partial installation is also possible, whereby eg 20-50 cm thermowood cladding is applied by us, including insulation all around. We also seal every built-in hot tub with plastic so that the insulation remains dry.
Step-by-step plan Installation:
Study the construction drawing of your Isbjørn Hot Tub supplied by us, this shows the standard sizes;
Mark the measurements in your garden and realize the required opening in the bottom;
Take into account an insulation plate on the bottom;
If you want a fixed drain (not required in itself), take a fixed drain into account;
If you want a filter, determine in advance where you want the filter and the filter connections;
Place the completely pre-assembled Tub in the bottom;
Fill all around with rubble or gravel for good drainage of the excess water later;
Attention points / Tips:
2 meters of chimney pipe is supplied as standard, however, with installation, 3 meters or more can sometimes be desired;
Make sure that the bottom around which the tub will be placed also has an insulation layer;
Make sure that the Hot Tub is well insulated all around and sealed with plastic so that the insulation remains dry and the insulation value is maintained. This is already realized by us as standard;
Tell us how you would like to empty the Hot Tub : a) through a submersible pump?, b) through a filter pump? or c) a combination of any of these options ? We will then take into account all your individual wishes during production;
For Built-in Hot tubs, we advise you to obtain good advice in advance during a visit to one of our sales points.
You buy directly from the factory in NL
All Isbjørn Hottubs are manufactured in the Netherlands and delivered to the customer from the Netherlands with our own drivers. So you do not pay high costs from Scandinavia or the Baltic States. Since we take our quality assurance very seriously, we have almost everything in our own hands. Would you like to take a look at the production of how we manufacture our plastic hot tubs? Then you are cordially invited during our opening hours, please call the general number in advance: 0633051666.
What customers say
Our new hot tub has been around for a few months and we are very satisfied. This already started with the delivery and installation. He had to go over the roof with us. This was no problem, because the hot tub was delivered neatly packed on a pallet. Once on the ground it was a matter of removing the foil and tilting it and he was standing. Installation of the stove and filter were also a matter of hoses and twisting and firing. We have already spent wonderful hours in it. Both in the hot summer and now in the cold under the starry sky.
I would like to thank you very much for thinking along and delivering the hot tub. The finish and appearance in our garden is more than expected! For now, the neighbors can watch (later we'll blind this corner), but everyone is jealous! Since the delivery last Saturday there hasn't been a day that we haven't enjoyed the tub. Especially with this warm weather, daily heating is not necessary, which results in a refreshing bath every day. We are therefore very pleased that we were able to submit all our questions and wishes to Isbjørn and Woodmex before purchasing this eye-catcher.
Very satisfied with our Isbjorn hot tub. The large heater heats the tub quickly. In the beginning, be careful not to heat too hard so that it gets too hot. All in all, it is wonderful to enjoy and also super cozy with the whole family. Well advised and nice to see the manufacture.
Finally started installing the hot tub today. We couldn't wait to sit in it for a while. And thanks for the warm hats.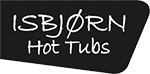 Since February 2019, ISBJØRN HOT TUBS has been part of the Woodmex Group, which has been located in Wormerveer (NH) for many years. Thanks to the greatly improved quality, improved final checks and our own delivery service, you can now find our hot tubs in several European countries.