About us
Isbjorn Hot Tubs
We are a smaller producer of wood-fired hot tubs with more than 10 years of experience. Since February 2019 we have been producing the best LDPE plastic inner tubs based on our own molds. We then put together the hot tub according to your own wishes in our production warehouse in Wormerveer and deliver it to the customer with our own drivers. Quality is therefore very important to us, as we make everything in-house and transport it to the final location in your garden. ISBJØRN HOT TUBS is part of the Woodmex Group and has been delivering beautiful craftsmanship with great passion for many years.
Isbjørn goes for quality and distinguishes itself with:
Almost 10 years experience with all brands of wood-fired baths;
Indestructible inner fairing (LDPE) without welds;
Comfortable sitting through sloping walls;
completely isolated, below and all around;
Plastic inside with natural look (mixed);
beautiful wide wooden edgefinish to sit on;
Maintenance-free thermowood finish;
Use of stainless steel materials, Wed. drain;
Very fast heating by using TURBO heaters;
Fully integrated on request whirlpool options;
As wished integrated filter solutions.
Compared to other models, our LDPE plastic inner tubs have great advantages such as:
Molded plastic tubs without welds;
Unbreakable material, lasts a lifetime;
Natural appearance (mixed appearance), authentic.
Own production under the name Isbjørn
Isbjørn Hot Tubs has been producing its own hot tubs since 2012, using our own LDPE inner tubs since 2019 and combining them with TURBO heaters for the fastest heating. The Isbjørn Hot Tubs also have an authentic cozy look thanks to the use of traditional wooden edges. That is what we want to supply, authentic atmospheric hot tubs that at the same time provide you with a lot of practical convenience such as little cleaning and fast heating.
Whirlpool systems
Thanks to further reinforcement and investment in technical know-how, we have been able to further expand our line with solid and reliable whirlpool systems. You can also buy a wood-fired hot tub from us, equipped with, for example, air jets and/or LED lighting. This allows you to enjoy the peace and atmosphere of a wood-fired hot tub, but also enjoy integrated bubbles during summer days.
Built-in hot tubs
In addition to the construction of the regular models, the construction of (partly) built-in models has also taken off. With built-in hot tubs, as a small artisanal production company, we can give just that extra attention that is needed (e.g. special drainage systems, filter techniques and custom connections, integrated whirlpool options, etc.).
Point of sale
Thanks to the greatly improved quality since February 2019, the improved final checks and our own delivery service, you can now find our Hot tubs in several European countries. So we are quite proud of that.
We wish you every success during your orientation and hope to welcome you in our showroom in Wormerveer.
What customers say
Our new hot tub has been in place for a few months now and we are very satisfied. This started with delivery and installation. With us he had to go over the roof. This was not a problem, because the hot tub was delivered neatly packaged on a pallet. Once on the ground it was just a matter of removing the foil and tilting it and it was standing. Installing the heater and filter was also a matter of attaching hoses, turning and firing. We have already spent wonderful hours in it. Both in the hot summer and now in the cold under the starry sky.
I would like to thank you very much for thinking along and delivering the hot tub. The finish and appearance in our garden is more than expected! For now, the neighbors can watch (later we'll blind this corner), but everyone is jealous! Since the delivery last Saturday there hasn't been a day that we haven't enjoyed the tub. Especially with this warm weather, daily heating is not necessary, which results in a refreshing bath every day. We are therefore very pleased that we were able to submit all our questions and wishes to Isbjørn and Woodmex before purchasing this eye-catcher.
Very satisfied with our Isbjorn hot tub. The large heater heats the tub quickly. In the beginning, be careful not to heat too hard so that it gets too hot. All in all, it is wonderful to enjoy and also super cozy with the whole family. Well advised and nice to see the manufacture.
Finally started installing the hot tub today. We couldn't wait to sit in it for a while. And thanks for the warm hats.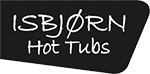 Since February 2019, ISBJØRN HOT TUBS has been part of the Woodmex Group, which has been located in Wormerveer (NH) for many years. Thanks to the greatly improved quality, improved final checks and our own delivery service, you can now find our hot tubs in several European countries.