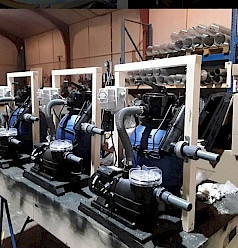 sand filter
Do you use the hot tub very regularly (eg a few times a week)? Then it pays to purchase a sand filter or filter installation. Read here which options you have!
---
sand filter
In general, we recommend that our customers first use a hot tub without a filter, and first experience how they like the tub and how often people actually use the hot tub. After all, the plastic hot tub can also be temporarily empty if you want if you do not use the tub for a while. If you use the tub very regularly (eg a few times every week), it pays to purchase a sand filter or filter installation.
If you decide to purchase a sand filter or swimming pool filter, we only supply completely pre-assembled filter solutions, including good service and warranty. If you are considering a filter, do it right the first time is our advice. This completely pre-assembled sand filter consists of:
Filter basin (blue) filled with fiberglass granules;
Sand filter pump (125 liters per minute, 250 W / 220 V) incl. pre-filter;
UV lamp (UV-C 15000, 18 Watt up to 8000 hours) against the algae;
2 x 2 meter connecting hoses;
Pre-assembled wall ducts;
Everything mounted on a handy carrying platform;
Other connection materials;
Manual and possibly. telephone support for questions or problems;
The sand filter itself ensures that fats and waste products are removed from the water (water becomes clear again), the UV lamp ensures that bacteria such as the alga bacteria will not grow any further (water is no longer light green and slimy).
Placement of the sand filter
It is important that a sand filter is stored in a frost-free environment. After all, during (severe or persistent) periods of frost, a filter or filter pump can freeze to pieces. We therefore advise you to preferably install a filter installation:
in a utility room or equivalent;
in a technical box (plastic box finished with thermowood).
Feel free to request a quote from us for the exact prices.