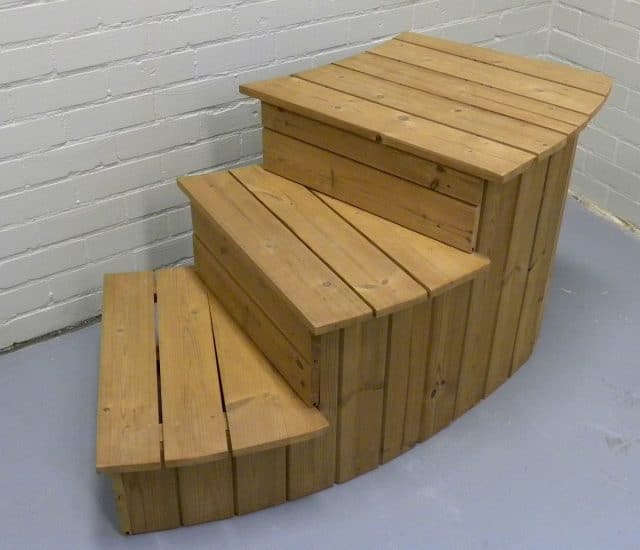 stairs
Our range of steps ensures safe entry into your Isbjørn Hottub. As standard, 3 different types of steps can be supplied. All our stairs are made of Thermowood. View all options here!
---
60 cm wide, 50 cm high. This is supplied as standard with every Basic version.
115 cm wide, 50 cm high. Included with every Comfort and Luxus version.
Round stairs walking right (3R) or left (3L). Available on request.
Dimensions: L 135 x W 67 cm. Staircase height max. 72 cm.
We supply step 1 as standard with the 160 cm diameter hot tubs. Step 2 - 115 cm wide - is supplied for the 180 cm. In short, the small stairs for the smaller tubs, the larger stairs for the larger tubs. However, this can be deviated from on request.
Thirdly, we offer round spiral staircases (left and right turning) that connect nicely to your Hot Tub. The advantage of this is that you can get in higher because these steps go up to a height of 80 cm, in contrast to the standard steps, which are usually only 50 cm high. The spiral staircase (only left-handed) can also be fitted with a stainless steel round banister.
We offer 2 types of handrails made of stainless steel 316. A handrail offers just that little bit of grip when boarding, but of course also looks nice. Of course you can also hang your bath towel on it.
Type 1: straight model
Type 2: spiral staircase model (clockwise turning, only left turning possible)
Feel free to request a quote from us for prices and options.