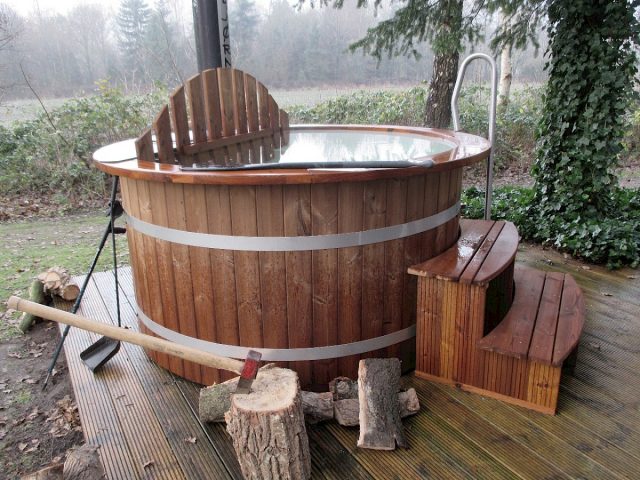 accessories
Isbjørn can offer you a number of accessories that are useful when using or maintaining your hot tub. Curious which accessories? Check it out here!
---
accessories
Isbjørn can offer you a number of accessories that are useful when using or maintaining your hot tub.
Wooden stirring paddle, wooden spoon
As soon as the internal heater is working, you will notice that the hot water appears on the surface and that it is still cold at the bottom level. To retain as much heat as possible, a wooden stirring paddle is often used to mix the water. If you have a pump (filter), you can of course also let the pump circulate.
Price: 45 euros incl. VAT
Protective pipe for stove pipe
With this protective pipe around the stove you protect yourself or children against the hot stove pipe and prevent burns. This protective pipe also gives the stove pipe a more robust appearance. Available in silver or black.
Price from: 95,- euro incl. VAT
wide staircase
Would you rather have a wide staircase with your 160cm hot tub instead of a narrow (standard) staircase?
Surcharge: 145 euros incl. VAT
Round spiral staircase (left or right turning)
Beautiful round spiral staircase with 3 steps.
Surcharge: 395 euros incl. VAT
Stainless steel railing for narrow or wide stairs
Handy stainless steel railing for a narrow or wide staircase
Price: 245 euros incl. VAT
Wooden lid thermowood
2 piece wooden lid from theromwood incl. handles
Surcharge: 195,- euro incl. VAT
Leather look cover
Insulated leather look cover (anthracite, black or dark brown)
Price: from 795 euros incl. VAT
Ash shovel cast iron
With this solid cast iron ash shovel you can easily empty the internal stove. The shovel is fitted with a large, broad 'duck foot' and an approx. 1 meter long handle. The cast iron base ensures that the shovel will last for many years.
Price: 45 euros incl. VAT
Purification granulate
To prevent algae formation as much as possible, we generally advise against using chlorine. On the one hand because of the penetrating smell of chlorine, on the other hand because of the harmful effect of chlorine on aluminum. We therefore recommend using this chlorine-free purification granulate without using a dispenser.
An even better alternative is the use of a filter installation with a UV lamp connected and purification granulate. This ensures a good PH value of your water, control of this is of great importance!
Price: 19.95 euros incl. VAT per kg / liter - send an email and we will send you the information!
norwegian hat 
In very cold weather and wet hair a must, a Norwegian hat to keep your ears warm :-)
Price: When buying an Isbjørn Hot Tub you will receive 2 hats as a gift.